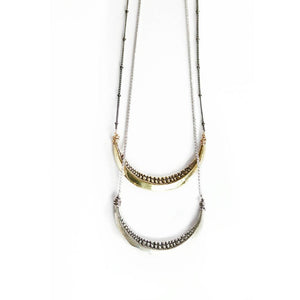 Crescent Moon Pendant
Regular price $45.00 Sale
Copyright 2018 Rebel Ideal®
The picture depicts two separate pendants: Silver and Bronze
You can choose from two different options:
Option 1: Oxidized Sterling Silver with a Sterling Silver Chain plated with rhodium for brighter finish
or:
Option 2: Oxidized Bronze, with Blackened Sterling Silver Chain with Ball details.
Please note that all jewelry pieces are handmade, thus there will be minor variations from the pieces shown in the shop pictures. Handcrafted jewelry will include subtle differences, even if the design is reproduced.
Please keep in mind that Rebel Ideal® jewelry in all metals ( solid silver, brass, and bronze) have been oxidized, e.g. aged. When you have this piece of jewelry cleaned by a professional, please let them know so that they don't remove the entire oxidization from the metal.