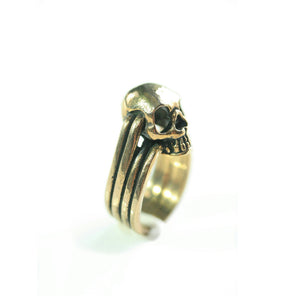 Yellow Brass Mini Skull Ring
Regular price $60.00 Sale
Copyright 2018 Rebel Ideal® Brass Mini Skull Ring
Very non-traditional and unique, made with 4 silver bands that go through the skull jaw. If you need size over 11.5,contact me directly.
A symbol of impermanence, skulls were used in many different kinds of ancient rituals and religious art as a reminder of your own death. It may also function as your support when confronting your fears, like the fear of death and the irrational fear of creepy things like skulls, corpses, and ghosts.
DIMENSION/SIZE: ring weight: 11.6 g, skull width: 11 mm, skull height: 14 mm
MATERIAL USED: brass
Please note that all jewelry pieces are handmade, thus there will be minor variations from the pieces shown in the shop pictures. Handcrafted jewelry will include subtle differences, even if the design is reproduced.
Please keep in mind that Rebel Ideal rings in all metals ( solid silver, brass, and bronze) have been oxidized, e.g. aged. When you have this ring cleaned by a professional, please let them know so that they don't remove the entire oxidization from the metal.